It is with a heavy heart, I say good bye to a dear friend, a true genius and incredible artisan in the world of  Mexican Folk Art. QEPD Saulo Moreno Hernández.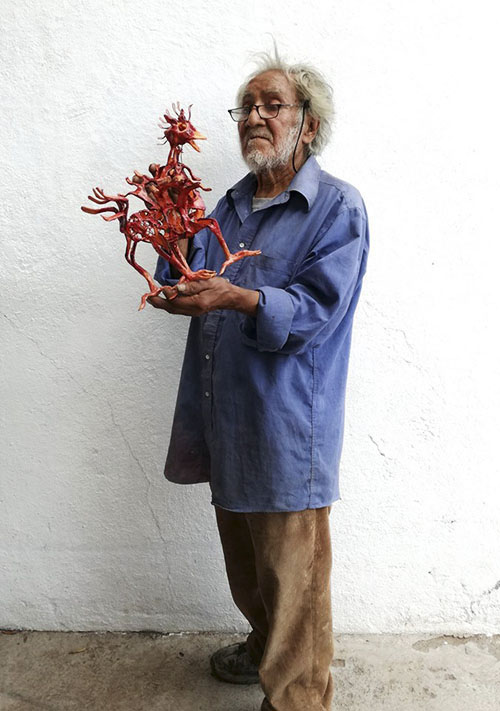 Saulo Moreno Hernández ( April 28, 1933 – July 24, 2018) QEPD.
I have tried to write this post several times. Each time I sat down at my computer, I began with writing from a historical point of view, dates, education, awards, museum exhibitions, etc. And each time, I made little or no progress, as Saulo was not only an incredible artisan at the forefront of arte popular mexicano for more than 50 years and a personal friend, but a truly unique individual that impacted the lives of his family, friends and other artisans.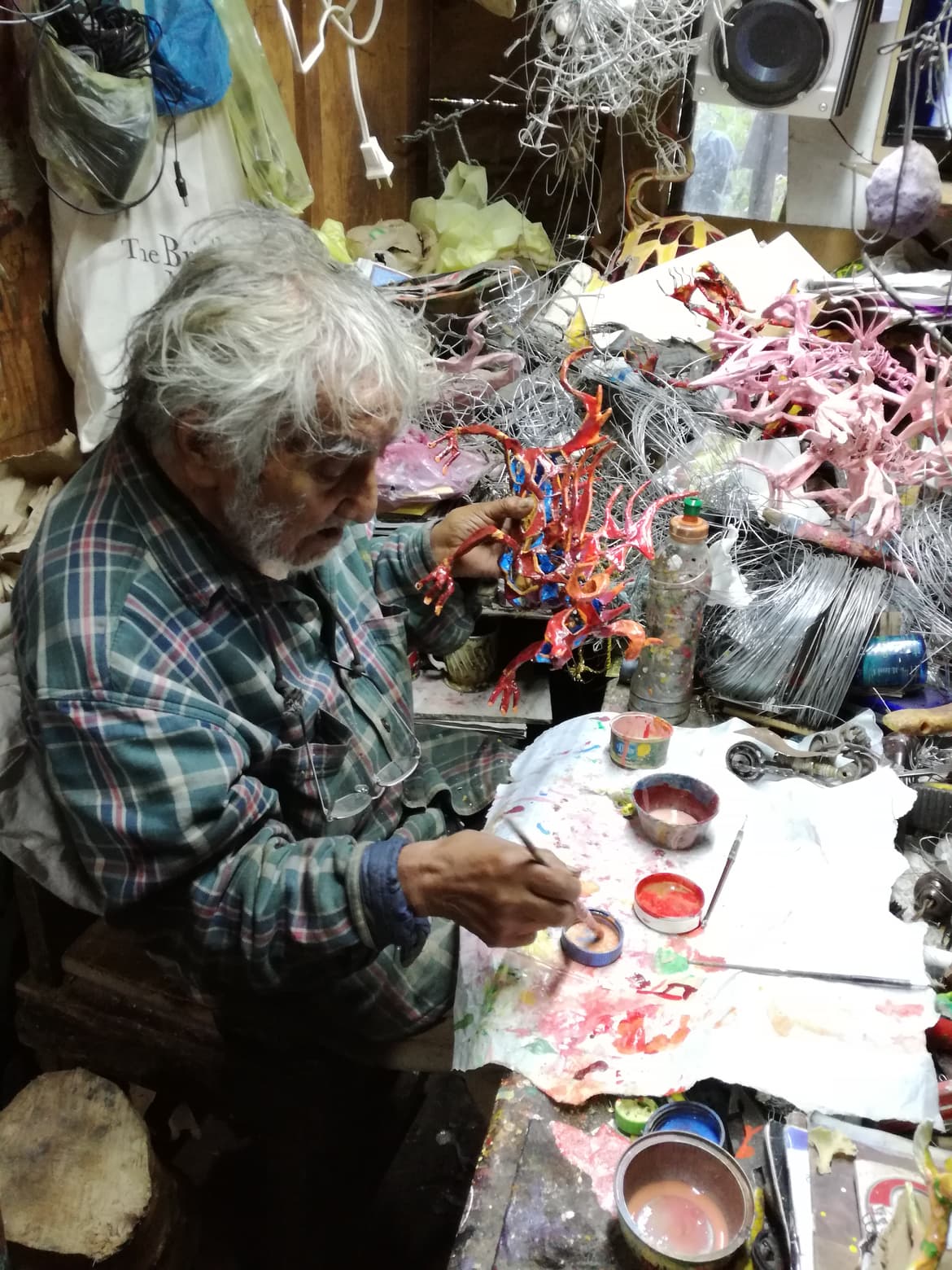 When defining folk art, I always stress that it is an evolution that stems from a family or village tradition, usually based on a utilitarian or ephemera object. One of the exceptions or contradictions to my rule is Saulo Moreno. Saulo created his own style, which he gave the name alambroides. Alambroides are figures made of wire, covered in areas with glued craft paper, primed and then painted. In some pieces the spaces are filled with solder instead of paper. The reoccurring themes of Saulo's work are animals and skeletons including musicians, newspaper salesmen, devils, angels, and others. Saulo spent two years studying art at the prestigious Academia de San Carlos in Mexico City, obviously giving him a different perspective with technique and form.

Saulo's pieces have been included in many exhibitions throughout the world… the United States, Canada, Great Britain, France, Japan and Mexico. The creativity of Saulo was recognized early on by Ruth D. Lechuga and María Teresa Pomar. His work was prominently displayed at the Museo Nacional de Artes e Industrias Populares. María Teresa Pomar included several of his works in the 1987 exhibit: EL DIA DE LOS MUERTS: The Life of the Dead in Mexican Folk Art, at the Fort Worth Art Museum, . Chloë Sayer, a true friend, fan and promoter, has been responsible for his work being shown in numerous exhibits in Canada and Great Britain.
His wonderful creations have appeared in numerous books, Arts and Crafts of Mexico and Fiesta: Days of the Dead & Other Mexican Festivities by Chloë Sayer, The Skeleton at the Feast: The Day of the Dead in Mexico, by Elizabeth Carmichael and Chloë Sayer, El cuarto rosa de Ruth D. Lechuga, published by Artes de Mexico, to name a few.

In Mexico, the first folk art stores to work with Saulo were Victor – Artes Populares Mexicanos, founded by Victor Fosado and continued by his daughter Pilar Fosado; this relationship lasted for more than 50 years. Ella Sylvia Turok, also showed Saulo's work in the 1960's in her galleries in Mexico City and Acapulco. By the late 1990's, Saulo's work was very much in demand in the United States. Between, Rocky Behr's store, The Folk Tree and my  store, Zócalo, in Houston we were constantly being asked for his pieces. It was Saulo's view of life and death that came alive in his pieces through devils and angels and the beauty of his birds and animals with their skeletal anatomy.

Although Saulo bemoaned the ideas and politics of the museum and folk art world, that did not stop him from entering special concursos (juried shows) from time to time. Some of the important premios (prizes) that he was awarded were in the Premio Nacional de Arte Popular in 1975 taking First Place and in 2009, Second Place. In 2008, he was awarded Premio Estatal de las Artes Eréndira, the highest honor given by the state of Michoacán to an artist or artisan.

The times that Saulo and I spent together bring back many memories. The trips to Tlapujahua watching him work in his studio (usually finishing painting the pieces I was picking up), the hours sitting in the yard spent discussing the state of the world and the current state of folk art, often with his 5 young children running around, Saulo was never hurried and made time for everyone. There were other times with Saulo in San Miguel de Allende, Pátzcuaro and Mexico City when Saulo would come to deliver the latest of his creations and the most difficult decision for me was what could I part with to sell or more likely, what must stay in my collection. There was the time in Metepec, at the wedding of Israel Soteno where we spent a memorable afternoon and evening enjoying the fiesta accompanied by the families of Tiburcio Soteno, Felipe Linares and various folk art promoters. There was also the opening at the Franz Mayer Museum of the exhibition, El cuarto rosa de Ruth D. Lechuga and the accompanying book, where Marta Turok invited the artisans and their families who had pieces in the collection to participate. Saulo was an integral part of all, always with his wit and comments.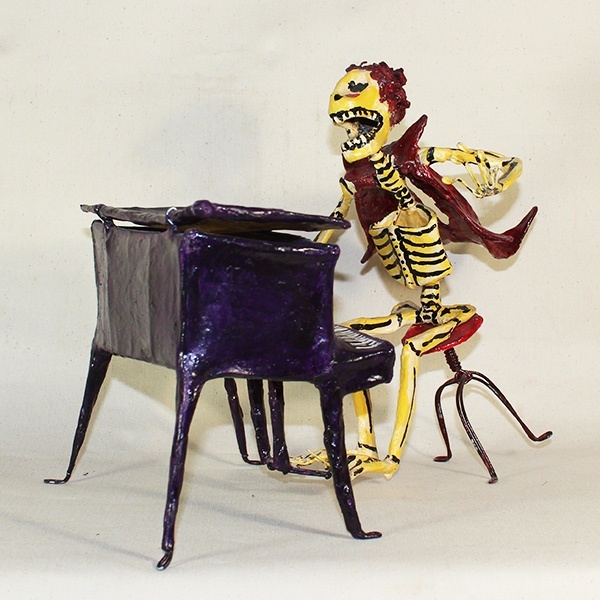 Fortunately Saulo's legacy will continue through his son, Mario Saulo Moreno Contreras, who at the age of 29 has mastered the technique and style started by his father. His work will continue to be enjoyed in museum collections and in the many private collections throughout the world.